Click on any of the numbers below to access that day's devotional
All devotionals are published at 12:01am on the day of the devotional (e.g. Day 2 is published and available at 12:01am on January 10, 2023)
Welcome to our 21-Day Fast Devotional
We are so excited for this time of fasting and reflection as we chase God together in unity as a church. The days within this devotional were taken for the culture guide that we had structured and printed this year. Our hope is that these topics would inspire you and align us as a whole. As you read each day, we encourage you to spend time in the scriptures mentioned in each devotional as well as write down what you feel God is placing on your heart. For those of you that have chosen to embrace this 21-day journey we just wanted to say thank you for your dedication. We believe there is no better time to dedicate a portion of the year to God. We pray and believe that this fast will be fruitful for you.
"Is this not the fast that I have chosen:
To loose the bonds of wickedness,
To undo the heavy burdens,
To let the oppressed go free,
And that you break every yoke?
7 Is it not to share your bread with the hungry,
And that you bring to your house the poor who are cast out;
When you see the naked, that you cover him,
And not hide yourself from your own flesh?
8 Then your light shall break forth like the morning,
Your healing shall spring forth speedily,
And your righteousness shall go before you;
The glory of the Lord shall be your rear guard.
9 Then you shall call, and the Lord will answer;
You shall cry, and He will say, 'Here I am.'
Isaiah 58:6-9
Each day, for 21 days, you will have the opportunity to engage in 4 ways:
To start off each day during your 21-day fast, we ask that you will go through each day and reflect as a church on the topics throughout our culture guide.
At noon each day, we ask that everyone pause and pray wherever you happen to be. Pray for:

Resonate Church Pastors and leaders – that they may have spiritual wisdom and insight as they plan for the future.
Our church body – to express the fruit of the Spirit in their lives and to walk in the blessings that belong to them in Christ.
The Altar Call – We would continue to see an influx of new believers choosing to live for Christ and dedicating their lives to God.
Set aside time each day, using this devotional guide to spend meaningful time with God.

Read the scripture and reflect on what it is saying to you.
Record your thoughts and prayers. Be honest with God. He wants to be involved with your life on every level.
Write down everything the Spirit speaks to you. He may speak through words, pictures, dreams, and visions or maybe even an audible voice.
Pray for God's leading and direction as you apply what was spoken to you.

Fast something for 21 days. It could be a specific food item such as meat or sweets, or you may find it beneficial to fast from a regular activity or habits like television or social media. Just pray and ask God what He would have you do.
In the end, as we journey together, our prayer is for your continued growth into the person God created you to be, and that Resonate Church will never be the same.
All devotionals are published at 12:01am on the day of the devotional (e.g. Day 2 is published and available at 12:01am on January 10, 2023)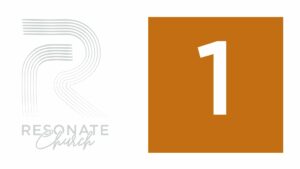 – Pastor Paul Ruzinsky Impacting the world from Newaygo and making it hard to go to hell from Michigan. Reflect: Is it possible to make
Read Devotional »